The new All4Labels Recirculating Box Label
Robust + functional crate & pallet label
The new All4Labels Recirculating Box Label supports the current trend to a sustainable usage of reusable carriers like boxes, crates and palettes in recirculation systems. The carriers have to withstand a multiple usage and rough processes as washing & disinfection as well as transport. They have to be of high quality and resistant to those challenging environments. This also applies to the Box Label.
Therefore it is attached with a strong permanent adhesive and resistant to UV radiation besides to the high pressure washing and common chemical washing liquids. The label can be tagged on an up to 60°C hot surface area and can undergo over 60 wash cycles in customary application.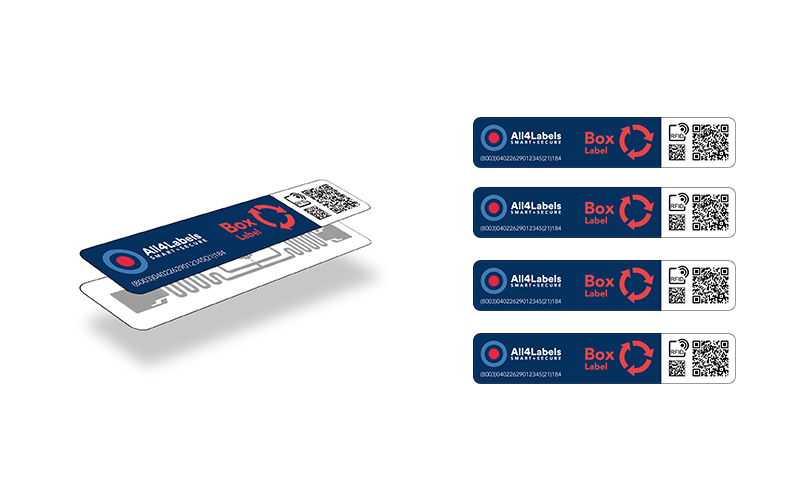 Specifications
The Box Label is now available as a standard product. The off-shelf specifications are:
Description
Detail
Dimensions box label
100 x 19 mm
Dimensions inlay
90 x 11 mm
Format antenna
87 x 8 mm
Chip
NXP UCODE 7xm
448 bits EPC, 2 kbit User memory
Frequency
860 to 960 Mhz
Protocol
ISO 18000-6C EPC class 1
Adhesive
heavily permanent
Read range
up to 9m depending on reading system and environmental conditions

bulk reading up to 480 units per palette

Data matrix type
GRAI code – GS1 standard matrix code ECC200
Human readable code
GRAI code or customized information
Material features
● resistant to high pressure washing and common chemical washing liquids
● UV resistant
● >60 wash cycles in common application
Application note
tagging fresh cleaned boxes up to 60°C surface temperature
Of course we can also customize the size, preprint and feature set of the label to individual needs.
The Box Label ensures a smooth implementation of the recirculation system and enables multiple use cases:
Storage and dispatch
With the Box Label a well-organized storage is assured. Each carrier can be assigned to a certain place in the warehouse and controlled regarding their location. Every carrier can be easily identified and aggregated into groups. Therefore an exact and controlled smooth dispatch is possible. The possibility to check the carriers, their completeness and state exists at any time and can be executed quickly.
Transport and delivery
Due to fast scanning of the Box Label on the carrier the delivery becomes faster and more efficient. It also provides a general overview for the producer/grower and the retailers over the content of the carriers at the time of dispatch/delivery.
In case of the producer/grower the loading of the carriers can be organized and carried out easily and information about the content can be saved and kept up to date which is also in the interest of the retailers.
Retail distribution center and sales outlet
Through the Box Label the retailers can track their products journey and have access to the information of their current state at any time. In addition, the management of storage and sale as well as the sorting and organization of the products while warehousing and in the shop can be optimized.
From recollection to storage
When the carriers are recollected and inspected to being washed and disinfected, they arrive again in the storage with the label offers full monitoring of the process which assures high quality and freshness. Every time all participants have control of the stocks at each place. This assures an effective usage of the carrier pool.
In general the Box Label grants full insight in the process, the carrier and its content on site as well as from remote at all times. It delivers analytics and statistics about each carrier as numbers of turns or lifetime. It also provides a base for great cooperation between different departments and overall participants in the recirculation system. It makes the process more transparent through fast information backup. Problems can be detected faster or even in advance and greater problems can be provided. The process stability improves.
The Box Label can be applied to many fields such as automotive, logistics, retail and food for example fruits and vegetables, meat, fish and bakery products.
Please contact us for further details and prices.